When people call or email us for pricing, we provide a complete bid based on amount needed and exact location. The price is as we call it,"to the penny." The price is exact and will not change. This is an exact price that you can count on for 30 days.
When comparing prices from different landscaping material companies the most important price to you is the TOTAL of all material costs DELIVERED to your property. Don't be deceived by a little lower delivery price and end up paying twice as much for the (landscaping) material.
Our delivery price is higher than most other companies, but for a 15 ton load of most materials we are up to $300 less than the retail landscaping material companies because we deliver the material direct from the source to you. It costs us less, so we charge you less. You get cleaner material, for less money, delivered faster.
We use courteous professional drivers and often times we can deliver it the exact day you request it. If not we will make our best effort to get it to you in a satisfactory time frame.
And if we cannot help you, we will cheerfully refer you where you might be able to get what you are looking for. We are an honest, hard working company that delivers quality material for a price you can count on. Pick up the phone and give us a call and let us show you what we can do for you.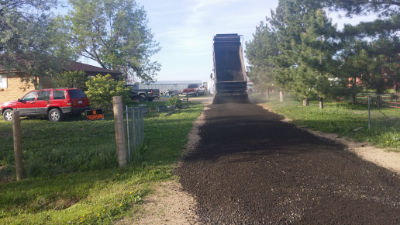 How to Build a Long Lasting Driveway or Parking Area.
Level the area as much as possible. If you don't have a tractor, you can usually do this with a rake or a shovel.
We deliver the recycled asphalt roadbase or recycled concrete. We will spread dump it if possible, at no additional charge. There is no charge for spread dumping. However we must stay clear of any overhead trees or wires.
You may need to knock down any high spots in the material, usually just at the edges.
After spread dumping, get in your heaviest vehicle, usually your car, pick-up or SUV. Drive back and forth over it a few times and you will have a hard surface driveway that should last 3 to 5 years at a 2 inch average depth, 4-6 years at a 3 inch average depth.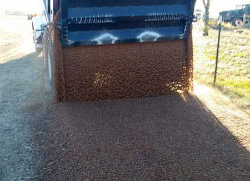 Instead of spending your entire weekend and back spreading material, let us drop spread your materials in place. Save, time, save money, save your back and make your spouse happy all in one transaction. Call us today!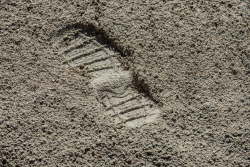 Crusher Fines (Breeze) is used for walking paths, horse stall, pen arena and roundpen footing, foundation drainage. It has many landscaping uses such as flagstone and paver base.
Equine crusher fines will not support plant growth.
Equine Crusher Fines is the same material as regular crusher fines, however it is used more for horse stalls, paddocks and corrals.
Crusher Fines (Breeze) $14.95 per ton.
Click here for more information.
Tonnage Example
Product
Length
Width
L x W =SF
SF / Depth
Tons
Roadbase 2"
120 Feet
10 Feet
1200
80
15
Roadbase 3"
90 Feet
10 Feet
900
60
15
Remember: One ton of roadbase covers 80 square feet, 2 inches deep.
One ton of roadbase covers 60 square feet, 3 inches deep.
Call today for a "no cost or obligation" bid or use the form below.
720-298-0948

Notice: There are a few notices to observe. They are listed here. All form fields are required. *
Please allow one day to schedule delivery, Monday thru Friday.
Quote is good for 30 days, there is no cost or obligation to purchase. Prices are subject to change without notice, however they are not expected to increase soon.
If you are not sure what material to purchase or how much to specify, you can always call the office and get help. You must order the material in the correct unit prices. Cubic yards is used for mulches and compost, tonnage is used for everything else. There are material calculators on each page. For materials not listed, specify the exact depth, width and length of the area in the comments section. Thank you.

We take Paypal, Visa, MasterCard, American Express and Discover.