This is the best time of year to shore up an existing driveway with asphaltic roadbase.
Asphaltic roadbase is an engineered product designed to expand during the heat of the day and contract during the cool of the night. This allows the product to "set up" over time. Within 60 days your driveway should be harder and firmer than when it was installed.
We also drop spread if requested, at no additional charge. This can save many hours of spreading material over the length of a long driveway. There will be some additional work necessary to finish the job, but it will cut way down on the amount of time the project will take.
Our minimum order is 8 tons and the trucks will hold up to 15 tons. We deliver to the entire Denver Metro area and surrounding communities including Watkins, Bennett, Confier, Sedalia, Mead, ... (you get the idea).
Piece of Mind Delivered
Direct from the Source to You
Welcome to Sand Four Sale. In the following pages you can easily read about and prepare for delivery of various bulk landscape and driveway products.
See All Of Our Products - Click Here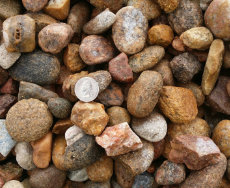 Beautiful river rock,
$32.95 per ton.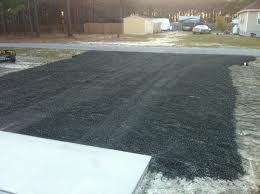 We feature locally sourced road base and landscape products and deliver them to your door or job site. Once you determine what products you are interested in, then give us a call and discuss the details. We are very experienced in the various products and will arrange delivery time and material amount and make sure all the details are covered.
In addition it is a good idea to talk over your specific application of products to make sure you are choosing the right product for the job and that they will meet your needs.
There is a BIG Difference between crushed recycled asphalt and rotomillings.
Recycled asphalt has 3/4 inch and smaller rock and asphalt fines that make it compact almost as hard as an asphalt road over time.
Rotomillings are smaller pieces, because of the grinding, that sometimes doesn't compact and spread very well.
Recycled Asphalt is a far better product. That is why it is slightly more expensive. If you use quality materials the first time, your driveway will last far longer, for less.
We can get our tandem axle trucks easily in to and out of all driveways, we show up when we say we will and charge the price originally bid. We can also "Spread Dump" at no charge, with our trucks. Spread dumping is not perfect, but will save you a lot of shoveling.
No Roadbase lasts longer or works better than Class 6 recycled asphalt. Now is the time to repair your driveway, before the ruts and low spots get too deep. Recycled asphalt roadbase $8.95 per ton, 1 ton covers 80 square feet 2" deep, 15 tons covers 1200 square feet 2" deep or 900 square feet 3" deep.
We also sell and deliver concrete sand, local river rock, mountain granite, pea gravel, squeegee, screened topsoil, structural fill, crusher fines (breeze), rip-rap, 4" tracking Pad rock, recycled concrete roadbase and many other materials.
We sell only quality materials and stand behind them unconditionally. You can buy with confidence.
Delivery is extra, delivery address needed to quote exact delivery price. Call 720-298-0948 for a FREE material and delivery price quote, with any questions and to schedule a delivery. Thank you.