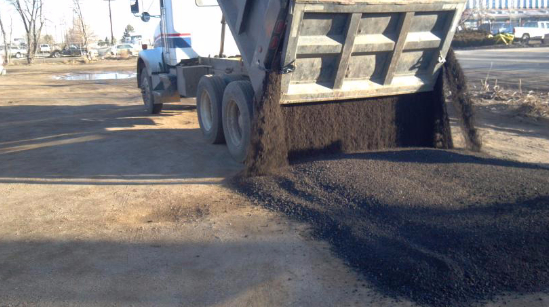 Recycled Asphalt Roadbase - $9.95 per ton.
Recycled Asphalt Roadbase is made from asphalt roads, parking lots and driveways, that is crushed and sized for uniformity. When applied 2-3 inches deep on driveways and parking areas it will last 4-6 years, and often longer.
Recycled Asphalt makes long lasting mud free driveways, parking areas and walkways. The Sun and heat actually help it to re-bond and seal.
Recycled Asphalt works well for driveways, parking areas, construction, home improvement and landscaping projects. Often used for the final grade when pouring new asphalt, inside or out.
Click here to learn about the differences between Asphaltic roadbase and rotomillings.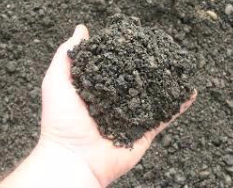 A handful of road base!
Our product is uniform and spreads easily.
Uses for recycled asphalt include;
shipping container base, shipping container pad, tuff shed base or pad, a-shedd base or pad, garden shed base or pad, driveway material, parking lot material, driveway base, parking lot base, roadbase and road building material. There are many other uses as well.
Tonnage Example - Use calculator below to determine amount needed
Length
Width
L x W =SF
SF / Depth
Tons
30 Feet
40 Feet
1200
80
15
To Order the Correct Amount of Material
Measure the length and width of the area to be covered. If you don't have a tape measure, walk the length and width of the area. Figure each full step as 2 1/2 feet. Get the total square footage of the area by multiplying the length by the width.
30 feet by 40 feet = 1200 square feet. 1 ton of Recycled Asphalt Roadbase covers 80 square feet 2 inches deep. 1200 divided by 80 = 15. You will need 15 tons of Recycled Asphalt to cover this area approximately 2 inches deep.
Please note: This is only a rough indication of the amount of material you may need. Actual dimensions may vary due to irregularities in soil types and established rough grade.
Once you determine your material and amount needed, call us at 720-298-0948
Or use the Contact page to arrange for delivery and pricing.


We take Paypal, Visa, MasterCard, American Express and Discover.