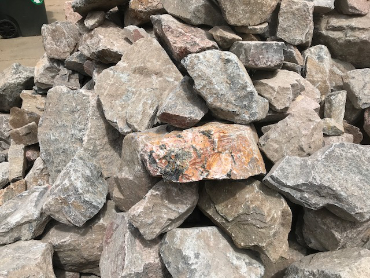 4 inch Average Tracking Pad Rock - $36.95 per ton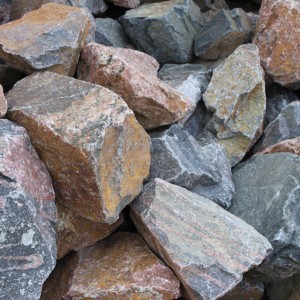 6" average - Mountain Granite Rip-Rap - $36.95 per ton
9" average - Mountain Granite Rip-Rap - $38.95 per ton
12" average - Mountain Granite Rip-Rap - $42.95 per ton


Mountain Granite Rip-Rap works well in a wide variety of applications.
Average size rock is of the 2"-12" is 6 inches.
Average size of the 6"-18" is 9 inches.
It is used for retaining walls, around culvert openings, on steep slopes to slow erosion, around the base of trees and many other uses.
4" - 21" - 12" Average covers 17 square feet.
6" - 30" - 18" Average covers 11 square feet.
9" - 42" - 24" Average covers 8 square feet.
If you need more information or would like to talk over your project needs, just call the office and we can walk you through this. Remember these are guideines, not absolute numbers.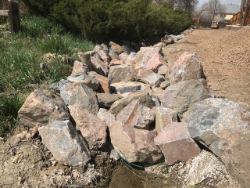 18 inch rip rap, shown with natural look. This is usually what it looks like when it comes off the truck.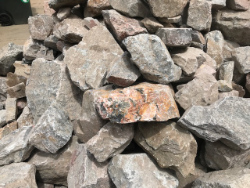 9 inch rip rap ready to be placed in a project. Notice the rose colored rock in the center.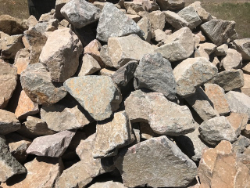 12 inch rip rap placed in a pile for landscape uses.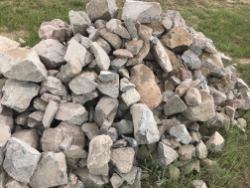 12 inch rap rap shown in a delivered pile.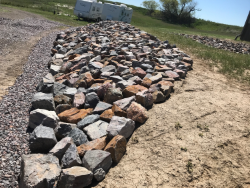 Large rap rap shown in a stabilized slope leaading into a drainage channel.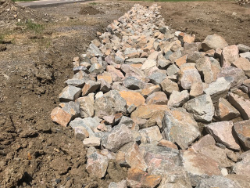 12 inch rap rap placed in drainage channel.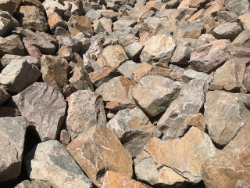 12 inch rap rap up close.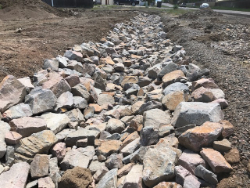 12 inch rap rap placed in drainage channel.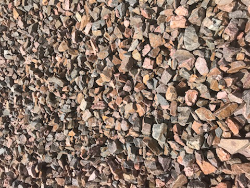 Track Pad (close up) - Various sized crushed mountain granite (2" to 6", 4" average), designed to keep dirt and mud on construction sites.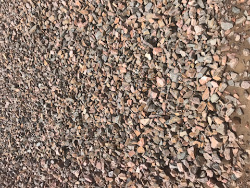 Track Pad - A stabilized pad designed to keep mud and dirty off public roads. Required by all municipalities in some form. Check for local requirements.
How to Order the Correct Amount of Material
Measure the length and width of the area. Get the total square footage by multiplying the length by the width.
Example: 24 feet x 15 feet = 360 square feet
360 sq. ft divided by 34 = 10.58 tons 2"-12" Rip-Rap
360 sq. ft divided by 23 = 15.65 tons 6"- 18" Rip-Rap
Please note: This is only a rough indication of the amount of material you may need. Actual dimensions may vary due to irregularities in soil types and established rough grade.
Once you determine your material and amount needed, call us at 720-298-0948
Or use the Contact page to arrange for delivery and pricing.


We take Paypal, Visa, MasterCard, American Express and Discover.