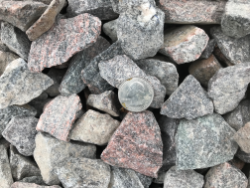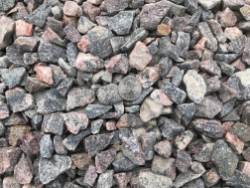 3/4" & 1-1/2" Mountain Granite - $32.95 per ton
Mountain Granite is one of the most popular types of decorative rock sold in the Denver area. This grayish-blue color is what we are seeing come out of the quarries in mid-2019. This color distinction can change at any time.
It contains a mix of colors and is a distinctive landscaping material that will give your landscaping design distinction.
1 ton of 3/4" River Rock covers 100 square feet 2 layers deep, 1 ton of 1 1/2" covers 80 square feet 2 layers or approximately 3" deep.
Mountain granite uses include driveways, parking lots, fire pits, culvert drainage, hillside drainage control, erosion control, xeriscaping, french drain construction, mulch substitute, dry creek bed construction and tracking pad rock.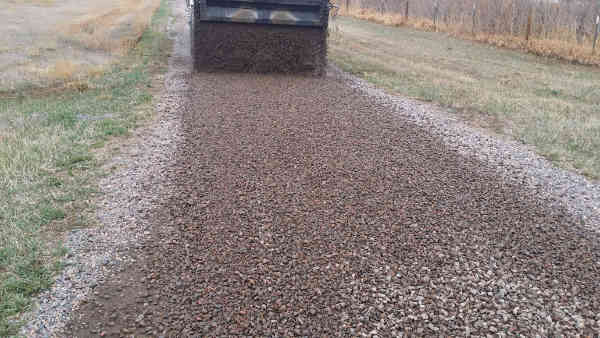 Mountain Granite being spread dumped.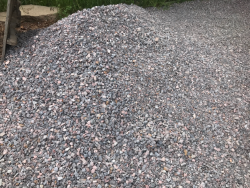 3/4" Granite - Good consistancy, assorted colors and this material will not move in a wind storm.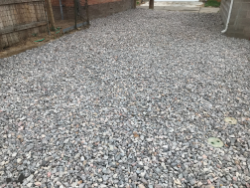 1-1/2" Granite - Laid down as a driveway surface.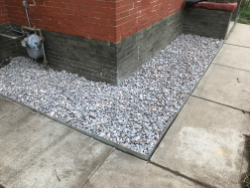 1-1/2" Granite - Excellent for tough to treat areas. Weeds will not grow in this area.
1-1/2" Granite - This is an example of how the material color can change over time. This image is representative of what it looked like in 2018. These are natural materials that reflect the colors of the granite being crushed/processed. The product does change color over time.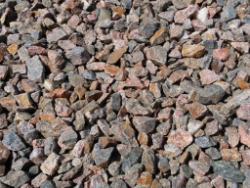 1-1/2" Granite - Uniform in character stays in place. Rougher texture than 3/4" granite.
Tonnage Example - Use calculator below to determine amount needed
Product
Length
Width
L x W =SF
SF / Depth
Tons
3/4"
30 Ft
40 Ft
1200
100
12
1-1/2"
30 Ft
40 Ft
1200
80
15
To Order the Correct Amount of Material
Measure the length and width of the area to be covered. If you don't have a tape measure, walk the length and width of the area. Figure each full step as 2 1/2 feet. Get the total square footage of the area by multiplying the length by the width.
Example: 30 feet x 40 feet = 1200 square feet
1200 sq. ft divided by 100 = 12 tons 3/4" Rock
1200 sq. ft divided by 80 = 15 tons 1-1/2" Rock
Please note: This is only a rough indication of the amount of material you may need. Actual dimensions may vary due to irregularities in soil types and established rough grade.
Once you determine your material and amount needed, call us at 720-298-0948
Or use the Contact page to arrange for delivery and pricing.


We take Paypal, Visa, MasterCard, American Express and Discover.