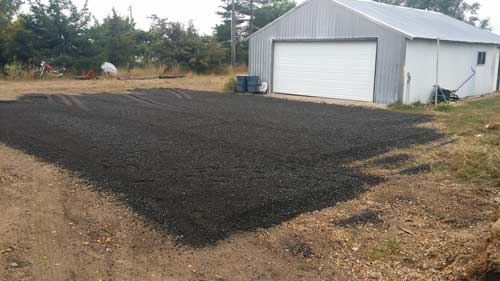 Recycled Asphalt Roadbase - $18.95 per ton.
Recycled Asphalt Roadbase is is an ideal material for quickly creating an RV pad. When applied 3 - 4 inches deep on driveways and parking areas it will last 4 - 6 years, and often longer.
The area should be well drained and level and have easy access. The area should be cleared of any vegetation if possible including mowing, rototilling, etc.. Weed barrier is probably not necessary (it does not hurt anything to put it in).
The most commonly used materials is recycled asphalt roadbase or concrete roadbase, or 3/4 inch gravel. The pad should be 3" - 4" thick. Thicker is better to keep the vegetation down and to have a solid parking area for years to come. If the area is not well drained, you can use the material to create a side slope of 1% or more. The pad should extend 2 feet beyond the RV footprint on each side.
Recycled Asphalt makes long lasting mud free pads, parking areas and walkways. The Sun and heat actually help it to re-bond and seal.
Recycled Asphalt works well for driveways, parking areas, construction, home improvement and landscaping projects. Often used for the final grade when pouring new asphalt, inside or out.
A handful of roadbase!
Our product is uniform
and spreads easily.
When possible, your RV parking pad should be built on a level, well drained surface. The area should be mowed and some weed killer (ideally agricultural vinegar) applied 2-4 days before the roadbase is delivered. We will spread dump the material for no charge. It is not an exact science, so there will labor on your part to get it to the desired depth and grade.
The pad should be 3 - 4 inches thick and 2 - 4 feet wider than your RV. If the pad site is not level you can use the roadbase to adjust the level of the site.
Once the roadbase is delivered and spread you can compact it in a couple of different ways:
Get it to the depth and level desired then drive back and forth over it with your largest vehicle.
Or go to your local lawn and garden equipment rental shop and rent a small compactor.
Tonnage Example - Use calculator below to determine amount needed
Length
Width
L x W =SF
SF / Depth
Tons
30 Feet
40 Feet
1200
80
15
To Order the Correct Amount of Material
Measure the length and width of the area to be covered. If you don't have a tape measure, walk the length and width of the area. Figure each full step as 2 1/2 feet. Get the total square footage of the area by multiplying the length by the width.
30 feet by 40 feet = 1200 square feet. 1 ton of Recycled Asphalt Roadbase covers 80 square feet 2 inches deep. 1200 divided by 80 = 15. You will need 15 tons of Recycled Asphalt to cover this area approximately 2 inches deep.
Please note: This is only a rough indication of the amount of material you may need. Actual dimensions may vary due to irregularities in soil types and established rough grade.
Once you determine your material and amount needed, call us at 720-298-0948
Or use the Contact page to arrange for delivery and pricing.


We take Paypal, Visa, MasterCard, American Express and Discover.