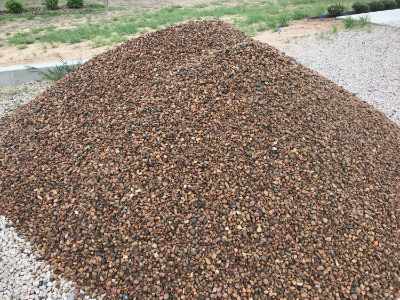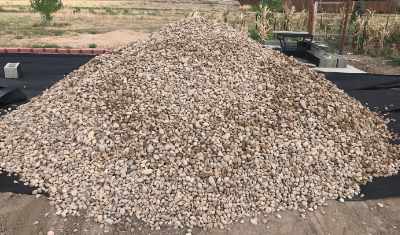 3/4" and 1-1/2" Multi-colored Local River Rock - $51.95 per ton

Notice: 3/4" and 1-1/2" river rock is available in quantity now!
Local River Rock is the most popular decorative rock sold in the Denver area. It is colorful and works well in any landscaping design.
1 ton of 3/4" River Rock covers 105 square feet 2 layers deep.
1 ton of 1 1/2" covers 80 square feet 2 layers or approximately 3" deep.
1 1/2 inch river rock and 3/4 inch river rock, can be used for xeriscaping, decorative landscaping rock, dry creek bed construction, french drain construction, driveway rock, parking area or lot, raised bed drainage rock, mulch substitute, fire pit rock, erosion control rock and rock walking path to name but a few uses.
Notice: Since these are natural materials, we are not able to guarantee the amounts and types of colors. It is always attractive and represents Denver's best landscaping materials values. Everyone that has purchased it, is very pleased with this rock.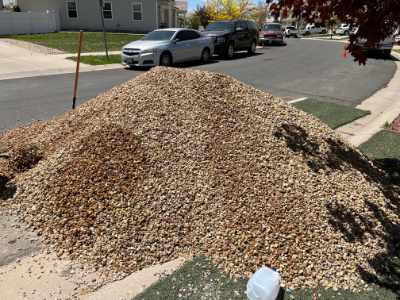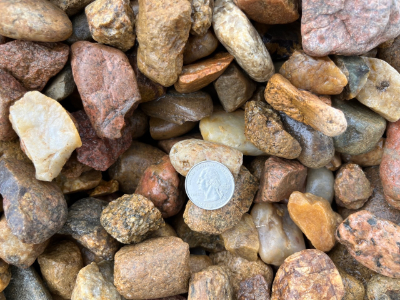 New for Summer of 2022. New for Summer 2022. These are pictures of 1 1/2" inch Multi-colored Local River Rock delivered on 7/19/22 to a new single family home project.
The rock is shown wet, it is a lighter color when dry.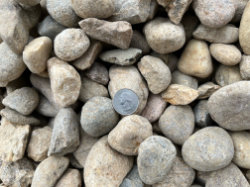 1 1/2" River Rock - This is how the rock looks right out of the truck. The thin layer of dust disappears quickly, often overnight with the dew.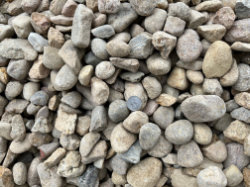 1 1/2" River Rock - A close up shows off the many different colorful rocks. For best appearance, run the sprinklers over them for a few minutes.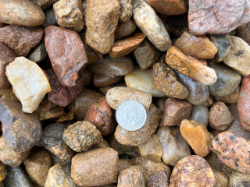 1 1/2" River Rock - Multi-colored beautiful 1 1/2" Local River Rock. Because these are natural materials we cannot guarantee the amount or types of colors, our 1 1/2" multi-colored river rock is the most attractive available in the area.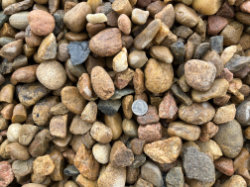 1 1/2" River Rock - This is what the rock looks like when wet. It dries to a lighter color. It will complement all landscaping designs from simple to spectacular. It works well along sidewalks and driveways as well as full yard installation. Call us today for a no cost or obligation material and delivery bid.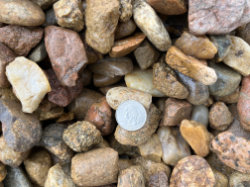 1 1/2" River Rock - Each truck load offers an opportunity to receive a new batch of colors. This is one of our favorites.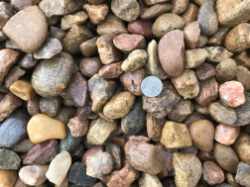 1-1/2" River Rock - These pictures were taken Friday, 8/24/22. We keep up to date pictures on our site, so you know what you're buying. The pictures show the rock wet. It is a little lighter color when dry. This is the most colorful River Rock available in town. We specialize in not surprising our customers.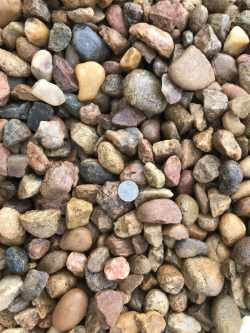 1-1/2" River Rock - It is almost mesmerizing to look at.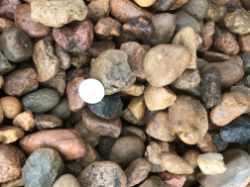 1-1/2" River Rock - Run the sprinklers for a few minutes and bring out the color in this beautiful multi-colored river rock.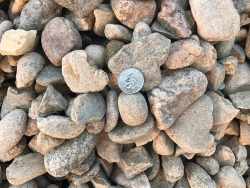 1-1/2" River Rock - Same rock, just dry. Water brings out the color in the rock.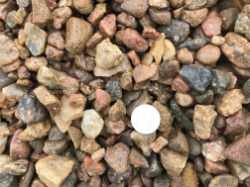 3/4" Minus River Rock - Prettiest rock in town, no matter where you live.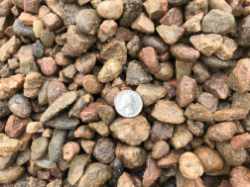 3/4" River Rock - Uniform, consistant color.
Tonnage Example - Use calculator below to determine amount needed
Product
Length
Width
L x W = SF
SF / Depth
Tons
3/4" Rock
30 Feet
40 Feet
1260
105
12
1 1/2" Rock
30 Feet
40 Feet
1200
80
15
How to Order the Correct Amount of Material
Measure the length and width of the area. Get the total square footage by multiplying the length by the width.
Example: 30 feet x 40 feet = 1200 square feet
1200 sq. ft divided by 100 = 12 tons 3/4" Rock
1200 sq. ft divided by 80 = 15 tons 1 1/2" Rock
Once you determine your material and amount needed, call us at 720-298-0948
Or use the Contact page to arrange for delivery and pricing.

We take Paypal, Visa, MasterCard, American Express and Discover.