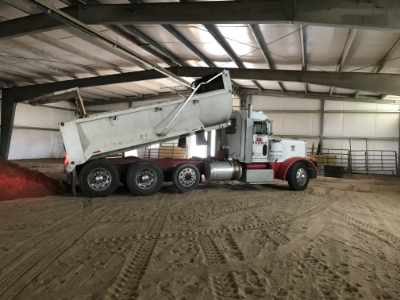 Washed Concrete Sand $24.95 per ton
1 ton of sand covers 100 square feet 2 inches deep.
This is how we go the distance to deliver superior value with on time deliveries and cleaner materials. Service separates us from the rest of the pack. Saving you money is what we do!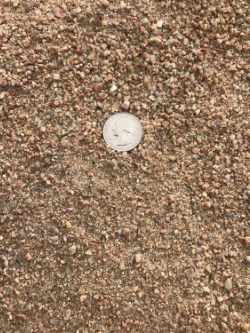 Cleaned Washed Sand (close up) - Even sized material and no foreign metals or stray particles. Washing sand cleans it up and creates a uniform product.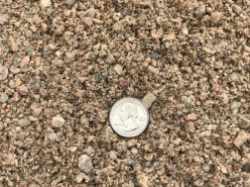 Cleaned Washed Sand (close up) - we sell cleaner material for less money. The less you handle a material means it stays cleaner longer.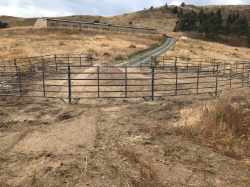 Cleaned Washed Sand (pile) - This corral will be ready for horses in no time at all.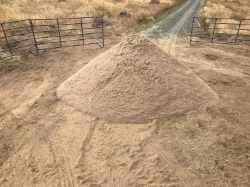 Cleaned Washed Sand (pile) - This is a simple job for a bobcat or skid loader to spread out. A new load of sand can make a world of difference in a horse pen.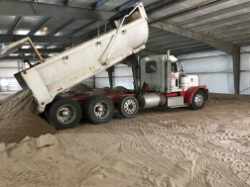 We can unload in many indoor arenas. (crazy) - we have to be extremely careful, but this can save you substantially.
We have lots of ideas about how you can save money with Sand Four Sale.
It is a medium size course sand particle that holds up to most uses very well.
You do not want over 3 inches of sand in the arena or roundpen and you may want to start with a 2 inch lift. Too much sand can injure your horse. It is much easier to add more material than to remove it.
Heavy daily use of the arenas and roundpens by multiple horses can break the sand down and it will become dusty. This is natural, just as every so often your car needs new brakes or tires, your horse riding and exercise areas will need new sand.
At that point you can add another inch or so of sand or use squeegee instead. Squeegee is 1/4 inch minus rock with 20 - 30 percent sand in it. Squeegee covers 100 square feet 2 inches deep per ton, the same coverage as sand.
Squeegee is the material sized between sand and pea gravel. While some arenas and roundpens add up to 50 percent squeegee, most of the time it is a better idea to start with 25 - 30 percent.
Sand and squeegee both cover 100 square feet, 2 inches deep, per ton.
The ground should be graded with a slight downhill slope to help with drainage.

Most sand and squeegee is delivered in 15 ton truck loads.
The delivery price is the same whether you get 12, 13.50 or 15 tons delivered.
You will have to decide, based on your budget, if its is less expensive to buy a little more than you need and get a full truckload so you'll have a little extra either for the arena or roundpen in the near future or only buy as close as you can to the exact amount you need.
Depth In Inches
40 Feet Dia.
50 Feet Dia.
60 Feet Dia.
2
12.60 tons
19.70 tons
28.30 tons
3
18.90 tons
29.40 tons
42.49 tons
 You need 96 tons for an average depth of 2 inches, You will need 144 tons for a 3 inch average depth. Calculations are shown below.

Tonnage Example - Use calculator below to determine amount needed
Product
Length
Width
L x W =SF
SF / Depth
Tons
Arena Sand / Squeegee
120 Feet
80 Feet
7200
100
96
To Order the Correct Amount of Material
Measure the length and width of the area to be covered. If you don't have a tape measure, walk the length and width of the area. Figure each full step as 2 1/2 feet. Get the total square footage of the area by multiplying the length by the width.
Example: 120 feet long by 60 feet wide = 7200 square feet
1 ton of Washed Sand covers 100 square feet 2 inches deep.
For every 2 inches of depth you will need 72 tons of Sand
Please note: This is only a rough indication of the amount of material you may need. Actual dimensions may vary due to irregularities in soil types and established rough grade.
Once you determine your material and amount needed, call us at 720-298-0948
Or use the Contact page to arrange for delivery and pricing.


We take Paypal, Visa, MasterCard, American Express and Discover.