Crusher Fines (Breeze) $18.95 per ton.
Crusher Fines (Breeze) is used for walking paths, horse stall, pen arena and roundpen footing, foundation drainage. It has many landscaping uses such as flagstone and paver base.
Equine Crusher Fines is the same material as regular crusher fines, however it is used more for horse stalls, paddocks and corrals.
Mountain Granite and River Rock Crusher Fines available.
Crusher fines can be used for horse stall base, roundpen base, arena base, walking paths, firepits, xeriscaping, patios, driveways, parking areas, parking lots, foundation drainage. You can also use to over excavate a base and fill it. There are many uses not listed.
Makes a great non-slip footing for pens, stalls, etc..
Provides for a level base for landscape paving flatwork.
Drains very well.
Is preferable in many cases to pea gravel.
Is a consistant uniform and easily worked product.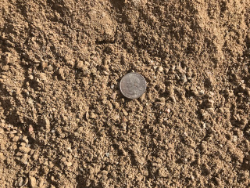 Tan Crusher Fines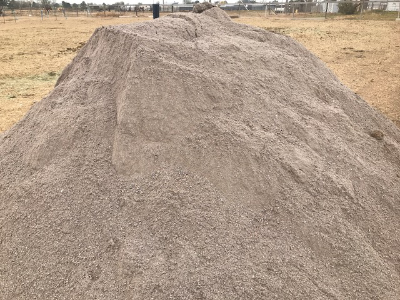 2018 Color - Crusher Fines delivered to Aurora horse stable. The crusher fines are slightly darker color than they were this summer. But they work just as well.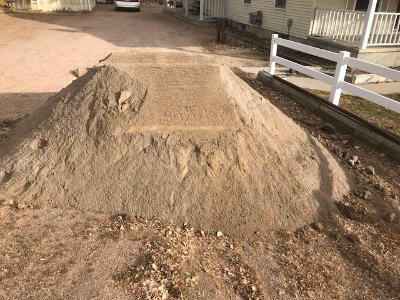 Equine
Crusher Fines
To Order the Correct Amount of Material
Measure the length and width of the area to be covered. If you don't have a tape measure, walk the length and width of the area. Figure each full step as 2 1/2 feet. Get the total square footage of the area by multiplying the length by the width.
Example: 30 feet long by 50 feet wide = 1500 square feet.
1 ton of Structural Fill, Crusher Fines and Screened Fill Dirt covers 100 square feet 2" deep.
For every 2 inches of depth you will need 15 tons of the material
Please note: This is only a rough indication of the amount of material you may need. Actual dimensions may vary due to irregularities in soil types and established rough grade.
Once you determine your material and amount needed, call us at 720-298-0948
Or use the Contact page to arrange for delivery and pricing.


We take Paypal, Visa, MasterCard, American Express and Discover.