Welcome to our new Equine Products Page. We have put all our products that can be used for horse stalls, pens, paddocks, trailer parking pads and driveways on one page. We wanted to make it easier to find the product that will work best for your situation, in the least amount of time possible. At the bottom of the page we have material coverage figures as well as an Arena and Roundpen Sand coverage chart. Please feel free to call us at 720-298-0948 with any questions about these or any other materials we sell.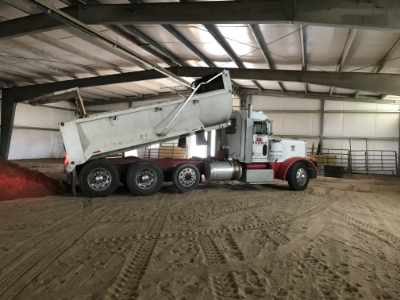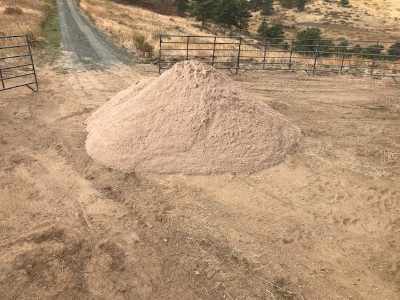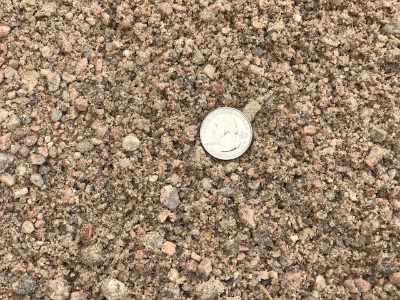 Image 1. Sand delivered in an indoor horse arena. This is how we go the distance to deliver superior value with on time deliveries and cleaner materials. Service separates us from the rest of the pack. Saving you money is what we do!
Image 2. 15 tons of washed sand in a new roundpen.
Image 3. Sand and Squeegee blend installed in a multi horse paddock. The Squeegee will help keep the Sand from getting dusty as quickly and also drains heavy rain better. For best results use 25% to 50% squeegee to sand mix.
Washed Concrete Sand - $26.95 per ton
Granite Equine Crusher fines - $24.95 per ton
River Rock Equine Crusher fines - $24.95 per ton
Pea Gravel - $38.95 per ton
Squeegee - $26.95 per ton
Class I Structural Fill - $16.95 per ton

Class 6 Granite Roadbase - $19.95 per ton
Now is the time to install your RV, camper or toy hauler parking pad. Soon we will be getting rain and snow that will make the project more difficult and time consuming. Each city and county has different rules and regulations for new parking pads and driveways, depending if they are visible from the street and are in the property yard. You should check with them before beginning your project.
While each type of roadbase has many uses, specific types of roadbases work better in different situations. Class 6 Granite roadbase is the best overall material to build your parking pad with. It works better on freshly graded dirt. Poorly drained areas where standing water may be an issue, on sandy or clay soils, because of the amount of aggregate and binders in it.
Class 6 Recycled Concrete Roadbase works well installed over freshly graded dirt, as a top layer over existing base of material and in some situations over clay soil. It doesn't work quite as well in sandy, mucky clay or poorly drained areas.
Recycled Asphalt roadbases does not usually meet the specification recipe for Class 6 Roadbase due to the varying amount of aggregate in some of the asphalt that was crushed. The tradeoff is that freshly crushed and screened asphalt compacts well over newly graded dirt thats been compacted and will stay compacted, depending on the traffic and how the snow is plowed. It works over clay soils at a 4 inch or thicker depth. It will disappear in sandy soils.
What is Class 6 roadbase? Class 6 is a (specification or Spec or recipe) for 3/4 inch minus roadbase. That means that the size of the largest aggregate in the material is 3/4 inch rock, then 1/2 inch rock, then 3/8 inch rock and then the fines. In Granite road base it consists of granite fines, in Recycled Asphalt it contains asphalt fines, and in Recycled Concrete it contains concrete fines. Granite roadbase meets this, Recycled Concrete roadbase sometimes meets it, Recycled Asphalt roadbase seldom meets it.
What are the different types of Road Base available? The Roadbases we sell the most of are:
Granite Class 6 Roadbase
Recycled Concrete Roadbase
Recycled Asphalt Roadbase

Due to the pandemic there is often a shortage of Recycled Asphalt and Recycled Concrete. We have mountains of Granite Roadbase, no pun intended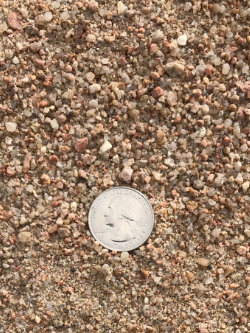 Cleaned Washed Sand. (close up) - Even sized material. Washing sand cleans it up and creates a uniform product.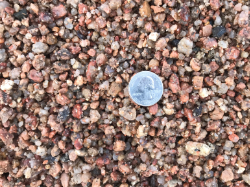 squeegee is the material between sand and pea gravel. 1/4" minus contains aproximately 20% sand. (close up) - Is the material between sand and pea gravel. 1/4" minus contains aproximately 20% sand.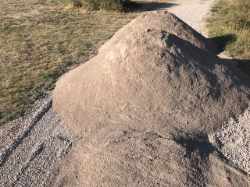 (pile) - Mountain Granite Crusher Fines delivered for a barn road in Elizabeth. Crusher Fines are a true multiple use material.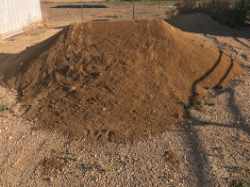 River Rock Equine Crusher Fines. (pile) - River Rock Equine Crusher Fines delivered for a horse pen. The River Rock Fines are the same size as the Granite Fines, 1/4 inch minus, and works the same in every way. Crusher Fines of either type are the best product for the top 2-3 inches of your horse pens, paddocks and runs. They are easy on the horses hooves, they compact but not too hard and drain well. The River Rock Fines are on the north end of town, the Granite Fines on the west side. Call for more information today.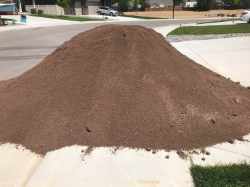 Class 1 Structural Fill. A 15 ton load of Class 1 Structural Fill Dirt delivered to a horse paddock in Broomfield for barn foundation drainage. Class 1 also works great as a base for stalls, pens. Arenas and Round pens. It is a true multiple use material. One product that can do several projects.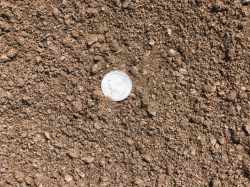 Class I Structural Fill. (close up) - Class 1 Structural Fill Dirt is a guaranteed non expansive soil. When it gets wet it won't get slick and it doesn't turn into mud. It compacts and stays compacted.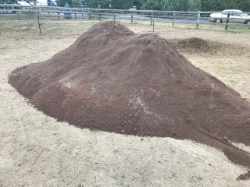 Class I Structural Fill - This is an example of the different colors of the material. Because these are natural products we cannot guarantee the color, but it all works great, plus we guarantee it.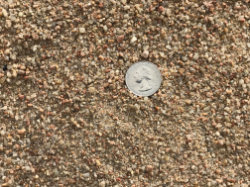 Cleaned Washed Sand. (close up) - we sell cleaner material for less money. The less you handle a material means it stays cleaner longer.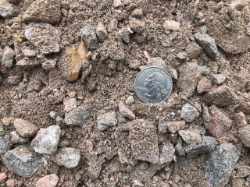 Class 6 Granite Roadbase. (close up) - This picture shows the type and amount of 3/4 inch minus rock in the Granite Roadbase.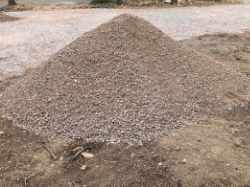 Class 6 Granite Roadbase. (pile) - Class 6 granite roadbase delivered for a motor home turn around area. You can easily see the amount of rock in the material. That is why it compacts and stays compacted longer than most other types of Roadbase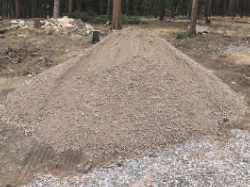 Class 6 Granite Roadbase. (pile) - Class 6 granite roadbase has many ranch, farm and home uses. It works great for driveways; for car, truck and trailer parking areas, as a base for and behind retaining walls. Some people use it under new roundpens and arenas. There are better materials for that.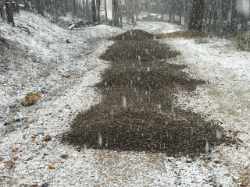 Class 6 Granite Roadbase. (snow) - 12 tons of Class 6 granite roadbase spread by a truck in the snow, down a hill in Conifer. It didn't spread as well as we'd hoped, but we did the best we could do under the conditions.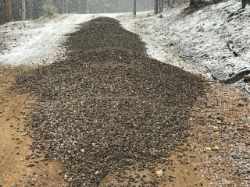 Class 6 Granite Roadbase. (snow) - Our Class 6 granite roadbase works well in both wet and dry conditions. It is always better to install it over a dry surface, but some moisture actually helps it to compact better.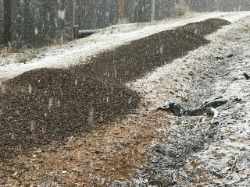 Class 6 Granite Roadbase. (snow) - To work well, roadbase of any kind needs to be a minimum of 2 inches, but usually not more than 4 inches thick for the best longest lasting use.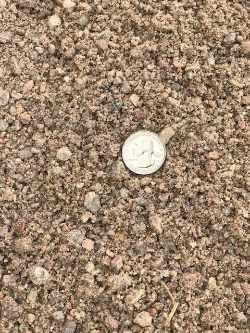 Sand and Squeegee Blend. (mix) - A good product to extend the life of your arena material.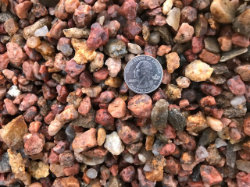 Pea Gravel. (wet) - This is what it looks like right out of the truck when wet.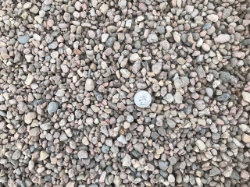 Pea Gravel. (dry) - This is what it looks like dry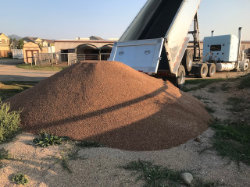 Pea Gravel. (pile) - 25 tons of pea gravel delivered for commercial project.
Pea Gravel. (close up) - Pea gravel can be used for driveways, trailer parking areas, dog runs for larger dogs, lawn and garden paths, under playground equipment and much more.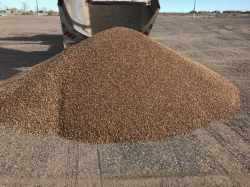 Pea Gravel. (pile) - Straight off the truck and ready to be spread out.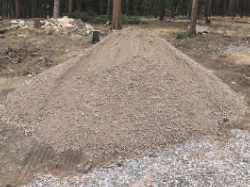 Class 6 Granite Roadbase. (pile) - One product, many uses.
It is a medium size course sand particle that holds up best to most arena roundpen uses very well.
You do not want over 3 inches of sand in the arena or roundpen and you may want to start with a 2 inch lift. Too much sand can injure your horse. It is much easier to add more material than to remove it.
Heavy daily use of the arenas and roundpens by multiple horses can break the sand down and it will become dusty. This is natural, just as every so often your car needs new brakes or tires, your horse riding and exercise areas will need new sand.
At that point you can add another inch or so of sand or use squeegee instead. Squeegee is 1/4 inch minus rock with 20 - 30 percent sand in it. Squeegee covers 100 square feet 2 inches deep per ton, the same coverage as sand.
Squeegee is the material sized between sand and pea gravel. While some arenas and roundpens add up to 50 percent squeegee, most of the time it is a better idea to start with 25 - 30 percent.
Coverages : All Crushers Fines;
Class 1 Structural Fill Dirt, Sand, Squeegee & Pea Gravel covers 100 square feet (10 feet x 10 feet) 2 inches deep.
Class 6 Granite Roadbase covers 80 square (8 feet x 10 feet) 3 inches deep or 60 square feet ( 6 feet x 10 feet ) 3 inches deep.
The ground should be graded with a slight downhill slope to help with drainage.

Most sand and squeegee is delivered in 15 ton truck loads.
The delivery price is the same whether you get 12, 13.50 or 15 tons delivered.
You will have to decide, based on your budget, if its is less expensive to buy a little more than you need and get a full truckload so you'll have a little extra either for the arena or roundpen in the near future or only buy as close as you can to the exact amount you need.
Diameter of Round Pen Calculations
Depth In Inches
40 Feet Dia.
50 Feet Dia.
60 Feet Dia.
2
12.60 tons
19.70 tons
28.30 tons
3
18.90 tons
29.40 tons
42.49 tons
 You need 96 tons for an average depth of 2 inches, You will need 144 tons for a 3 inch average depth. Calculations are shown below.

Tonnage Example - Use calculator below to determine amount needed
Product
Length
Width
L x W =SF
SF / Depth
Tons
Arena Sand / Squeegee
120 Feet
80 Feet
9600
100
96
To Order the Correct Amount of Material
Measure the length and width of the area to be covered. If you don't have a tape measure, walk the length and width of the area. Figure each full step as 2 1/2 feet. Get the total square footage of the area by multiplying the length by the width.
Example: 120 feet long by 60 feet wide = 7200 square feet
1 ton of Washed Sand covers 100 square feet 2 inches deep.
For every 2 inches of depth you will need 72 tons of Sand
Please note: This is only a rough indication of the amount of material you may need. Actual dimensions may vary due to irregularities in soil types and established rough grade.
Once you determine your material and amount needed, call us at 720-298-0948
Or use the Contact page to arrange for delivery and pricing.


We take Paypal, Visa, MasterCard, American Express and Discover.